Winterfest 2022
Sat 3rd Dec 2022 | 12-4.30 PM
Lairg Community Centre
At noon join the Opening Parade of real reindeer pulling Santa's sleigh from the bottom of Main Street to the Community Centre
MEET RUDOLF - HIS FRIENDS I SANTA'S GROTTO I CHRISTMAS CRAFT - ARTISAN FAIR - CHRISTMAS WREATH WORKSHOPS - FUNFAIR - BOUNCY CASTLE - CAFE WITH DELICIOUS HOME BAKING - HOT FOOD VAN - RAFFLE - MOUSETAIL PUPPETS 'GLOW IN THE DARK' SHOW.
District
FUNDED THANKS TO GENEROUS DONATIONS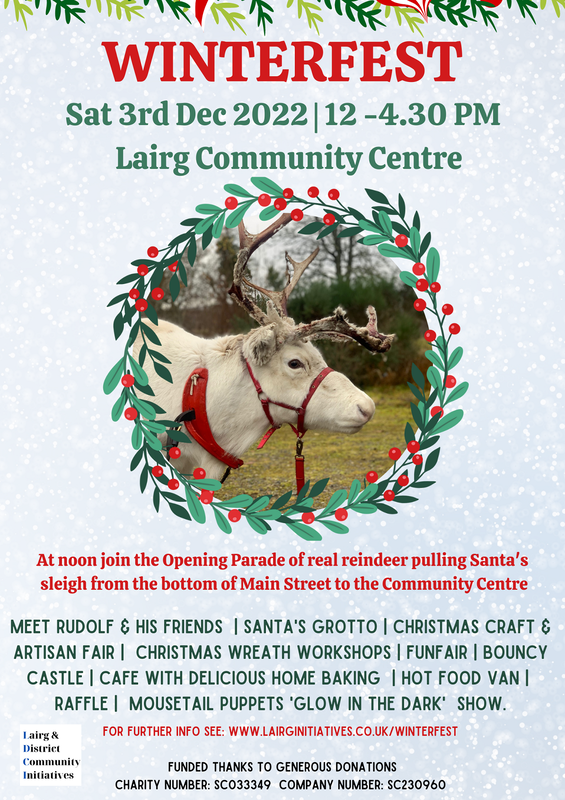 Winterfest is an annual family event that takes place in Lairg a few weeks before Christmas. The event has become a firm favourite. The day begins with a parade featuring reindeer from the Cairngorm Reindeer Centre pulling Santa and Mrs Claus in a sleigh along the Main Street to the Lairg Community Centre, where the festivities are based.

Winterfest has not taken place for the past two years due to the pandemic but we are pleased to say that it will be going ahead this year on Saturday 3rd December 2022!
Winterfest 2022 Programme - what to expect:

12 pm: Church Bells open parade

12 pm: Opening Parade of the Reindeer pulling Santa's sleigh from the bottom of the Main Street up to the Community Centre. (Approx. 20 – 30 mins). The reindeer will be at the back of the Community Centre for further viewing.

12 – 4.30 pm: Craft Fair in the Main Hall, Shin Suite, and Kinvonvie Suite (in the Community Centre).

12.30 – 4 pm: Santa Claus will meet children in his Grotto in the Conservatory within the Community Centre. £3 entry

12 – 4.30 pm: Café provided by the Crofters Show in the Rifle Range (in the Community Centre). Tea/ coffee and home-baking.

12 - 4.30 pm: Fun Fair & Food Van outside.

12 - 4.30 pm: Bouncy Castle and Tombola stall in Lairg Primary School Gym (run by Lairg Primary Parent Council.)

From 1pm: Strathfleet Buttons & Bows will play traditional music in the Main Hall.

2 pm: Mousetail Puppets presents 'Oscar & the Highland Castle'. Fluorescent Glow-in-the-Dark Puppet Show, Free admission. In Lairg Primary School, (General purpose room).

Free festive classes at Lairg & District Learning Centre:

10 – 11 am: Bottle Lights
10 – 12 pm: Wreath Making in the Cabin
12.30 – 1.30 pm: Christmas Card Making
12.30 – 2.30 pm: Wreath Making in the Cabin
2– 3pm: Decorate your own Bauble.

Booking in advance is essential. Contact Lairg & District Learning Centre on admin@lairglearningcentre.org.uk or call 01549 402050 to book a place.

4 pm: Children's Mini Raffle followed by the Grand Raffle Draw in the Main Hall.

4.30 pm: Event Closes

Important! Can we politely ask you to not bring your dogs with you to the parade as they can spook the reindeer, and this will not please Santa!!

Major Donors:

We would like to thank the following major donors for supporting Winterfest 2022:
EnergieKontor
Coriolis Energy
Shinness Estate
Merkland Estate
The Lairg Estate
West Shinness Estate
Raffle Donors:

We would also like to thank the following businesses, organisations and individuals for donating to our raffle:
The Pier Restaurant, Lairg
Highland Fine Cheeses
Sutherland Sporting Tweed Company, Lairg
Royal Dornoch Golf Club
BL Fuels
Tesco, Tain
Larissa Fry Ecotherapy
Lairg Pharmacy
Loch Shin Sailing Club
The Pat Munro Foundation
Bannerman Seafoods
The Kyle of Sutherland Hub
Clynelish Distillery
Morrisons, Alness
Shin Stores, Lairg